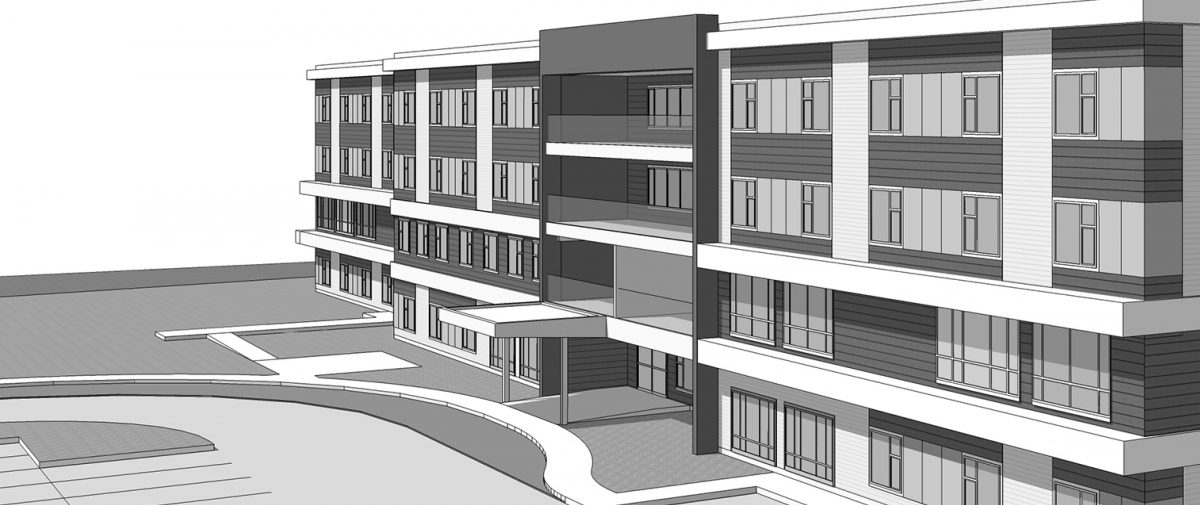 Mactaggart Seniors Care
We were approached by the Edmonton Chinatown Care Centre to undertake architectural services for the design and construction of a 120 bed facility on their Mactaggart property.  Located on the northeast corner of Anthony Henday Drive and Rabbit Hill Road, our client's vision for the property consisted of a mixture of independent living apartments, assisted living units, and commercial spaces.
The project will use a phased approach to the design and construction.  Phase 1 will consist of 120 supportive living residences in a four-storey seniors care building.  Phase 2 includes another 48 residences in a seniors' independent living building that is linked to the care building.  To proceed with the non-combustible Group B2 construction, we first began by successfully rezoning the property from RA7 to DC2 (Direct Control).  The rezoning allowed us greater flexibility as we pursued a mixed-use development.
DETAILS:
Owner:
Chinatown
Multi-Level Care
Foundation
Location:
Edmonton, AB
Facility Size:
8,980 m²
Status:
Approved Development Permit
Construction Cost:
$22 million
SERVICES:
Prime consulting services including structural, mechanical, electrical, civil, and landscaping
TEAM:
Jonathan Rockliff
(Principal)
Dan Letourneau
(Associate)
Sherry Yong
(Staff)