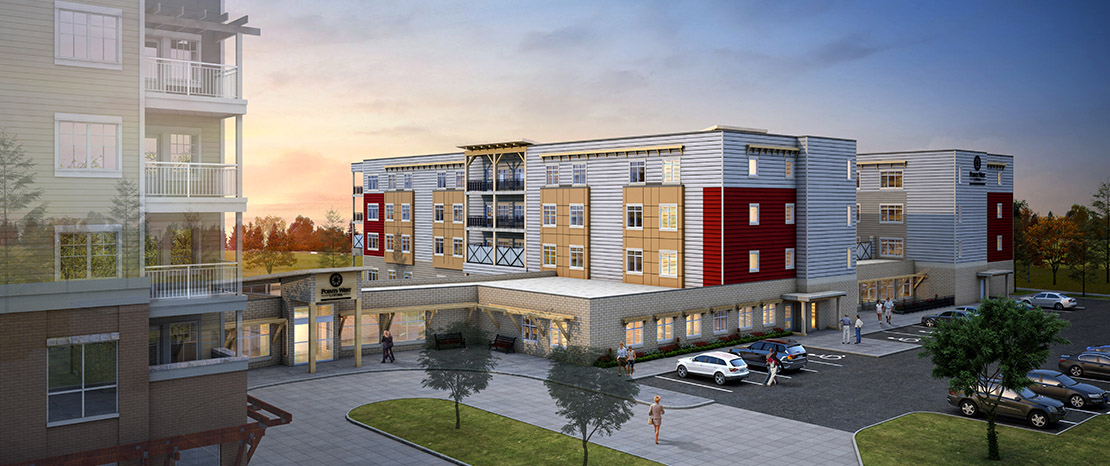 Points West Living Cochrane
PWL Cochrane is an aging-in-place facility located in the new development of Fireside on the south side of Cochrane.  This large parcel of land will be home to three linked buildings, all with distinct but complimentary individual uses. There will be designated supportive living (DSL), independent living rental and independent living ownership (condo) units.
RPK worked closely with the Town to ensure development compliance (including meeting their architectural guidelines) and community consultation. Special attention was paid to coordinate a shared road and services with the adjacent developer. Phase One is a four storey non-combustible building to house 122 supportive living residents, including 26 memory care residents.  Phase Two will include up to 75 independent living rental suites and a link to the DSL building to allow residents access to food or care services, and to visit a loved one who might live there.
The supportive living component is designed and constructed to meet AHS standards for non-combustible B2 construction, minimum resident room sizes, and minimum overall building area.
DETAILS:
Owner:
Points West Living
Location:
Cochrane, AB
Facility Size:
10,575 m²
Status:
Completion,
Spring 2019
Construction Value:
$23.2 million
SERVICES:
Prime consulting services including civil, structural, mechanical, electrical, and landscape
TEAM:
Jonathan Rockliff
(Principal)
Jan Kroman
(Principal)
Peter Wong
(Associate)
Dan Letourneau
(Associate)
Sherry Yong
(Staff)