All
Health
Care
Seniors
Facilities
Public
Infrastructure
Post
Secondary
Housing
Commercial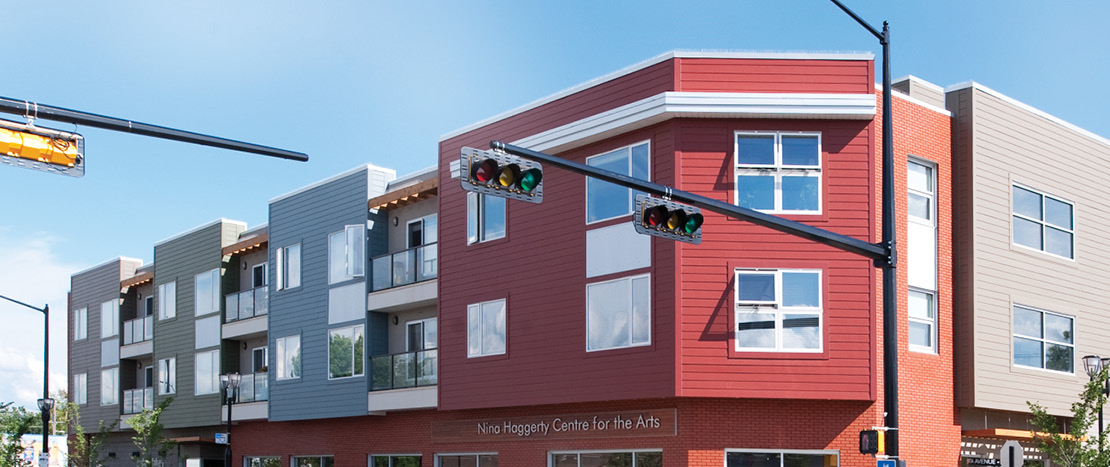 ArtsHub 118 & Nina Haggerty Centre
Affordable housing can be beautiful and contribute to the vitality of a neighbourhood while staying within a limited budget. Located along 118 Avenue, this mixed-use project offers apartment housing targeted at modest income earners. It is also home to the Nina Haggerty Centre for the Arts and the Stollery Gallery.
Ground floor studio space for Nina Haggerty encourages artistic expression from people with developmental disabilities. Together with the Stollery Gallery, the facility provides exhibition space which connects artists to the community and nourishes a spirit of collaboration and encourages investment in the improvement of the neighbourhood. Generous expanses of glazing along 118 Avenue create a dialogue between the street and the inner activities of the studio and gallery while durable and attractive building materials elicit a sense of quality, permanence, and optimism.
On the second and third levels, sixteen one bedroom units respond to the need for affordable housing and help to improve the neighbourhood by providing pride of home ownership as well as increased density in the area. A communal rooftop patio on the south side overlooks the mature trees on the adjacent street and encourages residents to interact with each other in a more meaningful way than a simple "hello" in the lobby.
DETAILS
Owner:
Edmonton Inner City Housing Society
Location:
Edmonton, AB
Facility Size:
2200 m²
Status:
Completed,
August 2009
Final Cost:
$4,636,000
SERVICES
Prime Consultant
Architectural &
Interior Design
Construction Drawings &
Specifications
Tender
Construction Administration
Coordination of Structural,
Mechanical, Electrical, &
Civil Engineering, &
Landscape Architecture