All
Health
Care
Seniors
Facilities
Public
Infrastructure
Post
Secondary
Housing
Commercial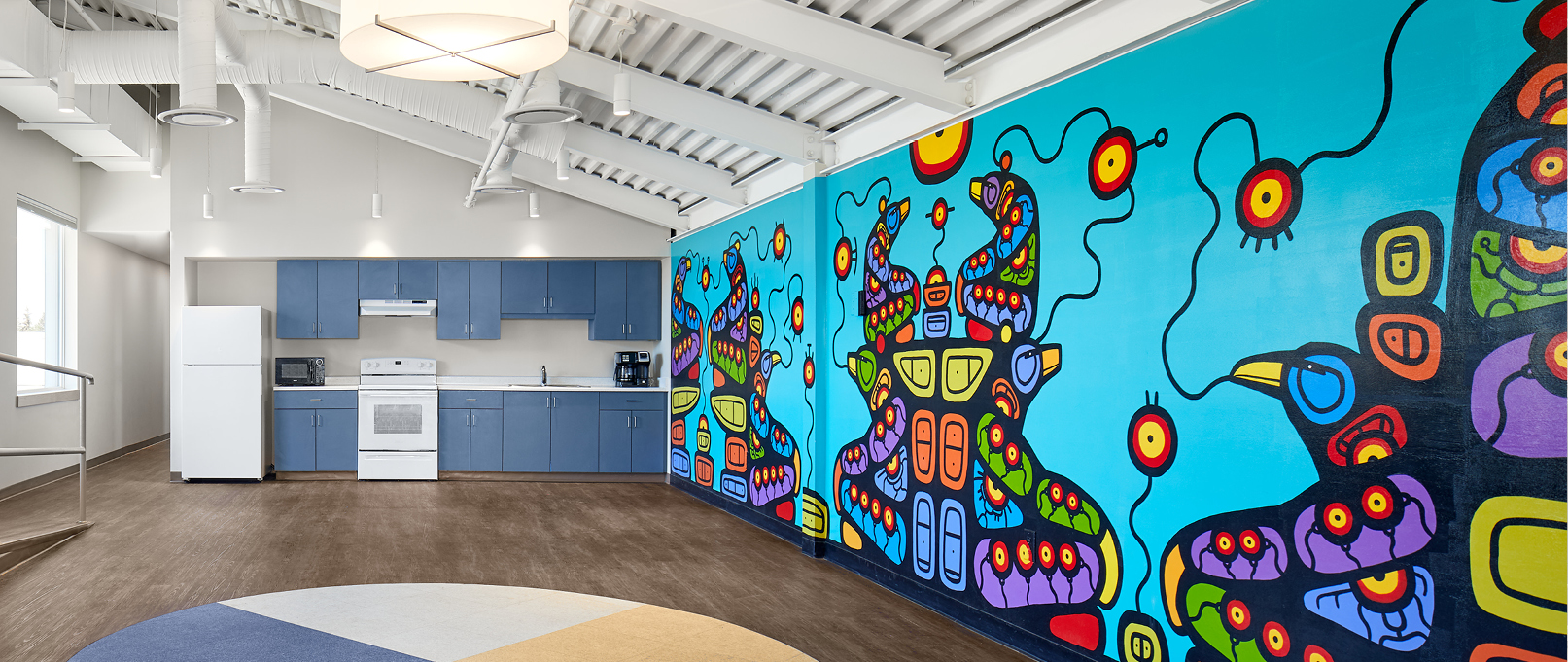 Belvedere Affordable Housing
Situated in Edmonton's Belvedere community, on the northeast corner of 129 Avenue and 64 Street, is a new 42-unit affordable housing project. The 5-storey steel and concrete structure offers one and two bedroom apartments, and six townhouse-style suites to those on income support or from at-risk families.
Belvedere Affordable Housing offers support to Edmonton's most vulnerable population, and is part of the City's plan to end homelessness. RPK is proud to have been a key player in this development, and to have worked with Right at Home Housing Society and Niginan Housing Venture to realize their vision.
In many ways, this project is much more than just another affordable housing development. Living in this building will give all tenants greater exposure to the Indigenous culture. It will provide a circle of support for multi-generations, and especially children from at-risk families. The five ground-floor townhouses are devoted to at-risk families. Support is provided to the children in these households by the elders (or "kokums" in Cree, for grandmother) who are provided apartments at reduced rent in return for their time. The kokums would nurture, share dinner with, and babysit for one of the adopted families. The idea is to allow children to grow up in one place, with greater stability and reduced suffering, while also giving the elders support and a sense of well-being from being in a community.
Belvedere Affordable Housing is more than just rental units. On the top floor are office spaces, rooms for social events and Indigenous ceremonies, and an exterior common roof deck. Completing the site is a custodial suite, indoor and outdoor parking, bike stalls, and landscaping. To reduce the impact on the environment long-term and to keep operating costs low, we have fostered green building by using durable construction and made the building solar ready. The infrastructure is there to support a future installation of photovoltaic panels to produce a portion of the building's electrical needs. Furthermore, plans are in place to rebuild the adjacent public park to better serve tenants and the neighborhood.
DETAILS
Owner:
Right at Home Housing Society
Location:
Edmonton, AB
Facility Size:
4006 m²
Status:
Completed, October 2020
Construction Cost:
$10.3 million
SERVICES
Prime Consultant
Architectural & Interior Design
Coordination of Structural, Mechanical,
Electrical, & Civil Engineering,
Energy Modelling, &
Landscape Architecture