All
Health
Care
Seniors
Facilities
Public
Infrastructure
Post
Secondary
Housing
Commercial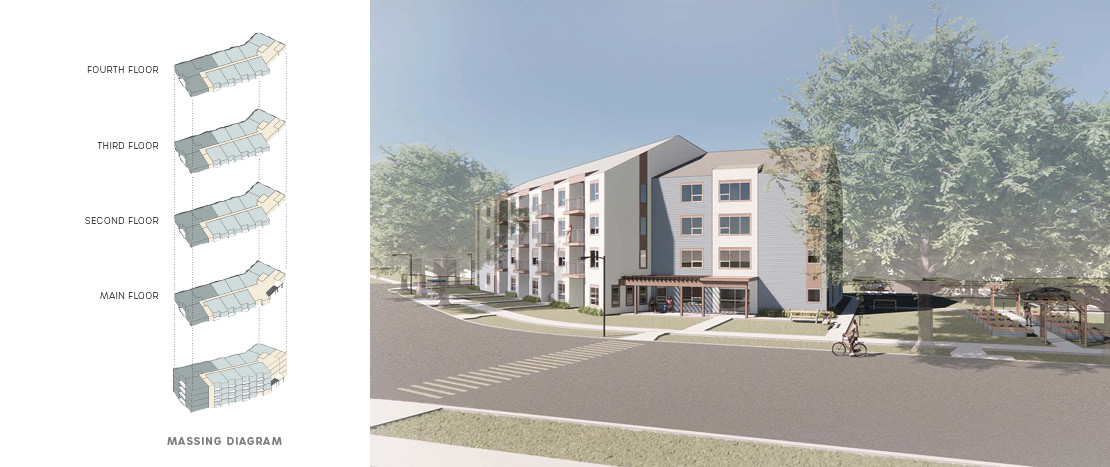 Holyrood Terrace
In 2021 RPK was chosen by GEF Seniors Housing to explore different design options for the densification of their existing Golden Homes site located in Edmonton's Holyrood neighborhood. A variety of different building typologies were explored with consideration for future site development, communal outdoor space, and pedestrian connectivity to the site's mature neighborhood. The final design iteration locates a four storey building on the west portion of the site and includes a mix of common areas, bicycle parking and one and two bedroom apartments.
The 42 unit building faces south to maximize natural light in each unit and provide a future opportunity for solar panels. The majority of the site is reserved for communal gardens and outdoor space, preserving the mature trees that occupy the east portion of the site and the adjacent boulevards.
This conceptual design proposed light cladding colours and warm natural tones in order to create a calming and welcoming atmosphere for both residents and the surrounding community. Each unit is allocated outdoor space in the form of rear or street facing balconies. Various different community consultations were conducted during the design phase to gather input from existing residents and neighbors of the site.
DETAILS
Owner:
GEF Seniors Housing
Location:
Edmonton, AB
Facility Size:
4,100 m²
Status:
Rezoning and Final Design Complete
Construction Cost:
$12.4 million
SERVICES
Architectural Design
Community Consultations
Rezoning
Building System Coordination