All
Health
Care
Seniors
Facilities
Public
Infrastructure
Post
Secondary
Housing
Commercial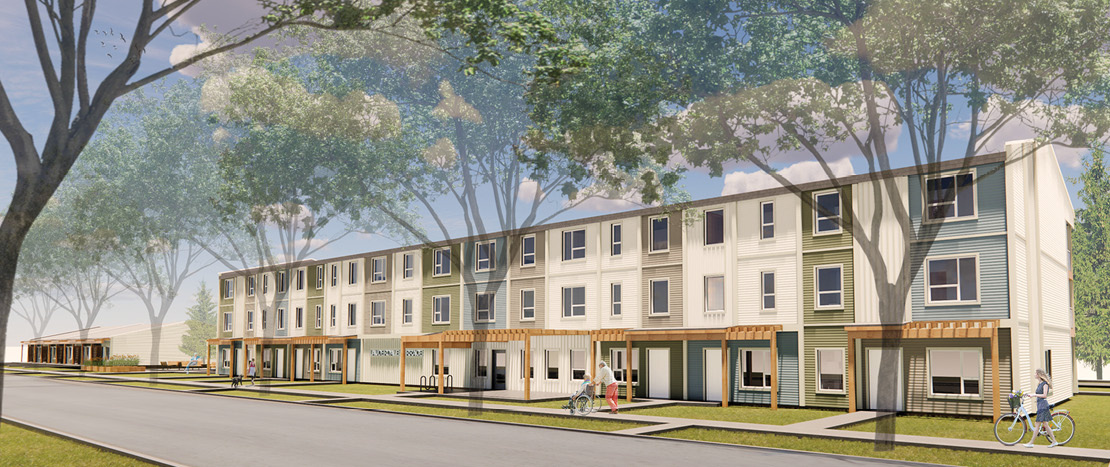 Lauderdale Row Housing
The renewal of GEF's Lauderdale Homes redefines what a safe, sustainable, and inclusive senior's com­munity looks and feels like. The final design aims to physically establish this concept by densifying the site and calibrating the appearance of each unit to demonstrate both individuality, and belonging to a larger community.
As a recipient of the Federal Government's Rapid Housing Initiative funding, this project employed the use of modular and prefabricated construction to allow for a shorter turnover period, providing quicker access to affordable senior's housing within the City of Edmonton.
The final construction densifies the site's one acre capacity from 6 bungalow duplexes to a combination of 38 apartments and row housing. This hybrid typology of both a multi-storey and one-storey building allows for a gradual integration into the surrounding residential neighbourhood while supporting the addition of a large communal green space for resident's leisure. With paved pathways bridging each unit to public transportation off of 103rd Street and the private resident parking, transportation to and from the site is both convenient and safe for every resident.
DETAILS
Owner:
GEF Seniors Housing
Location:
Edmonton, AB
Facility Size:
3,080 m²
Status:
In Construction
Construction Cost:
$11.7 million
SERVICES
Architectural Design