All
Health
Care
Seniors
Facilities
Public
Infrastructure
Post
Secondary
Housing
Commercial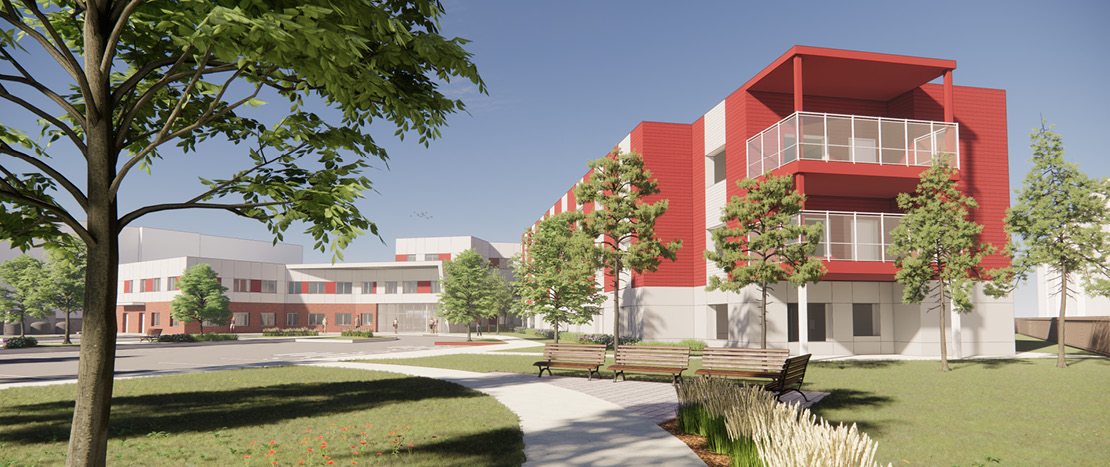 Mactaggart Seniors Care II
Mactaggart Continuing Care is a new three-storey senior's home facility in southwest Edmonton. In collaboration with Content Consulting and the Chinatown Multilevel Care Foundation, the building will be built with four wings, containing a total of 137 units, along with administration areas, and an abundance of shared indoor and outdoor spaces.
Each of the three residential wings of the building is laid out as a "cottages," with an arrangement of patient rooms and quiet rooms linking to the central hub. The hub hosts dining and recreational spaces, as well as the nursing support station. This arrangement fosters a sense of community and connection both internally as well as externally as the hub provides access to outdoor patios and amenity spaces. The forth wing of the facility contains multipurpose rooms, exercise facilities, tuck shop, hair salon, office spaces and an elevated sunroom.
Each of the three generous courtyards creates is designed with a distinct purpose an personality, creating a variety of experience for residents not often experienced in senior's care centres.
DETAILS
Owner:
Content Consulting
Location:
Edmonton, AB
Facility Size:
10,770 m²
Status:
Under Construction
Construction Cost:
$20 million
SERVICES
Prime Consultant
Architectural & Interior Design
Construction Drawings & Specifications
Tender
Construction Administration
Coordination of Structural, Mechanical, Electrical, & Civil Engineering, & Landscape Architecture