All
Health
Care
Seniors
Facilities
Public
Infrastructure
Post
Secondary
Housing
Commercial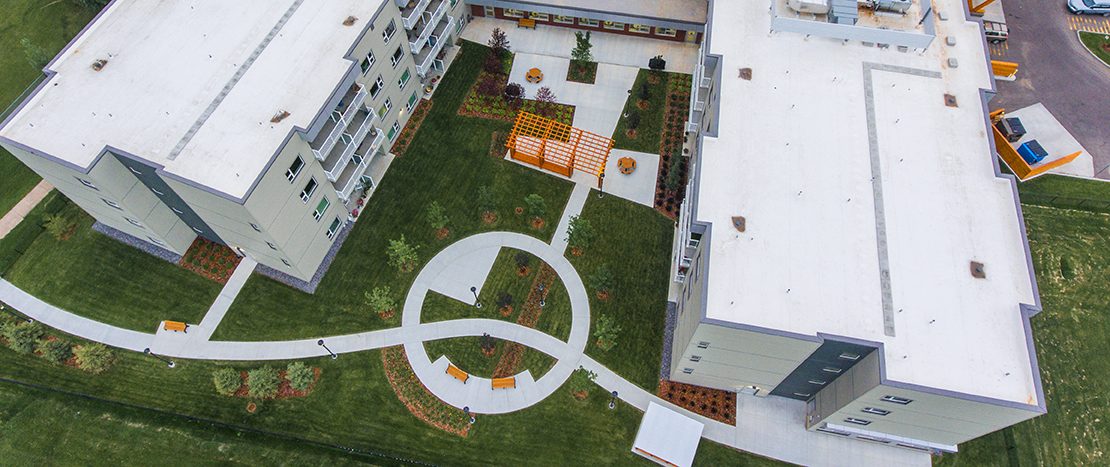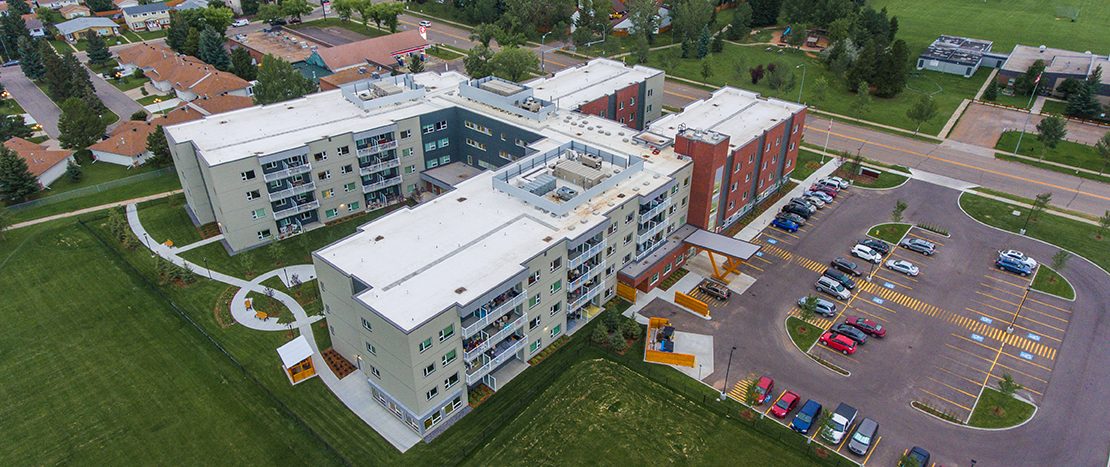 Sakaw Terrace
Sakaw Terrace is a four storey seniors' home that recently opened its doors on Mill Woods Road and 58 Street. It is GEF Seniors Housing's largest project to date. Situated on a surplus school site, the 14,370 m2 state of the art building has 4 wings and 158 units (77 lodge units, 88 affordable 1 and 2 bedroom apartments); 2 courtyards; a communal greenhouse; a theatre room; a hair salon; a library; and underground and above ground parking. It brings much needed affordable housing to seniors in this southeast community.
The building's design, siting, landscaping, and amenities were the result of multiple discussions with local residents and community groups. Early on, GEF held multiple meetings to gather input from interested stakeholders. This information then shaped the design of the building – everything from the parking to the placement of the building on site.
For a community with 20,000 seniors, Sakaw Terrace is intended to be the spark that ignites future developments for aging residents. Many in this age category are on fixed income, and Sakaw, by combining in one building Subsidized Affordable and Affordable units, works to create a new model of housing which helps seniors in different income levels while alleviating the dependency on public funding. Mixed income housing allows monies from the Affordable suites to flow back into the operation.
Another unique aspect to the building centres on how it was actually designed and built. Under the Integrated Project Delivery (IPD) process, 10 partners and the owner entered into a single contract and shared in the risk and reward. Through collaboration, this model allowed for the sharing of expertise, and encouraged everyone to find efficiencies, reduce waste, and optimize the design. Everyone is collectively responsible for the project's success.
DETAILS
Owner:
GEF Seniors Housing
Location:
Edmonton, AB
Facility Size:
14,370 m2
Status:
Completed,
December 2018
Construction Value:
$37.16 million
SERVICES
Prime Consultant
Architectural &
Interior Design
Construction Drawings &
Specifications
Tender
Construction
Administration
Coordination of Structural,
Mechanical, Electrical, &
Civil Engineering, &
Landscape Architecture